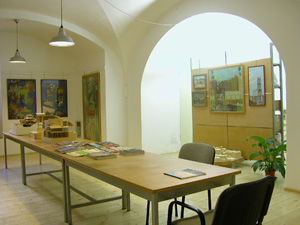 ARTE | ARCHITETTURA
è un laboratorio di progettazione multidisciplinare che prende l'avvio professionale con Giovanni Marucci sin dal 1976 e si avvale di partner nazionali ed europei. Il laboratorio ha maturato numerose esperienze nel campo dei lavori pubblici, della pianificazione urbana e del restauro.
Dal 2008 ha una nuova sede nel centro storico di Camerino, in via della Canonica.
Ne fa parte stabilmente, oltre a Giovanni Marucci, l'architetto Emanuele Piccioni.
Ad esso afferiscono progettisti e tecnici di diverse discipline per comprendere tutte le competenze necessarie in materia di Architettura, Design, Ingegneria e Urbanistica.
Il laboratorio comprende anche una sala per mostre temporanee d'arte figurativa, architettura e per la pratica musicale.
Il motivo ispiratore del laboratorio è legato ai principi di una architettura organica, sobria, motivata e consapevole dei valori in gioco, alla ricerca della qualità diffusa, del risparmio, di un rapporto pacificato con le preesistenze storiche/archeologiche e con la natura.
ARTE | ARCHITETTURA
is a multidisciplinary laboratory which starts with Giovanni Marucci since 1976 and employs national and European partners. The laboratory has accumulated many experience in the field of public works, residences, urban planning and restoration.
Since 2008 it has a new office in the historic center of Camerino, Italy.
This includes, as well as Giovanni Marucci, the architect Emanuele Piccioni.
To it belong engineers and technicians from different disciplines to understand all the necessary skills in the field of Architecture, Design, Engineering and Urban Planning.
The laboratory also includes a hall for temporary exhibitions of visual arts, architecture and practice of music.
The motive of the laboratory is related to the principles of organic architecture, sober, motivated and aware of the values at stake, the pursuit of quality, a peaceful relationship with the existing historical/archaeological and with nature.